If you have a gap in your smile or a missing tooth, you may be wondering what are dental implants. While you may be able to hide it, ignoring it can cause some serious potential risks to your oral health, which is why it's important to fill the gap as soon as possible. In the past, the only options for missing teeth were bridges and dentures – but not today. One of the best ways to fill in missing teeth is with implant dentistry. If you're missing a tooth or teeth, here's why it's important to get it filled as soon as possible and why dental implants are the right choice.
What are Dental Implants and Why Should I Get Them?
It's important to replace missing teeth as soon as possible to ensure that the surrounding teeth do not shift into that gap. If this happens, it can cause a number of oral health issues and even lead to further tooth loss. So what are dental implants? Dental implants are a permanent solution to replace the missing tooth with an artificial one. Unlike dental bridges or a removable denture, implants do not require altering healthy neighbouring teeth or tissue for support. They function just like a real tooth.
Who Can Get an Implant?
If you have healthy gums and enough jaw bone to hold implants' metal posts, as well as good general health, you may be a good candidate for dental implants. In case your jawbone has shrunk or has not developed normally, you may require a bone graft procedure to build up the bone. Your dental specialist will tell you if bone grafting is required.
Who Performs the Procedure?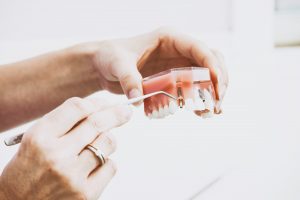 If you require a dental implant, you should visit a dental specialist who has specific training in this area. At Rockcliffe Dental & Denture Centre, we have a team of skilled and experienced oral surgeons and periodontists, who will not only perform the procedure, but also answer all your questions regarding what are dental implants.
How Do Implants work?
An implant is designed to replace the missing tooth's root. For it to work, the implant needs to be embedded directly into the jaw so that the new artificial tooth can be attached to the implant. This creates stability and helps to prevent jaw bone shrinkage that often occurs after a tooth is lost.
Why Are Implants Needed?
Implants can be used to prevent a number of oral conditions. Here are some of the most common ones:
Mesial Drift
When there's a gap in your smile, your teeth have to compensate for the gap, and as a result, the teeth begin to drift towards that empty space. This sudden movement can cause lead to misaligned, crooked, and overlapped teeth.
Super Eruption
If a missing tooth is not corrected, within a few years a condition called super eruption can occur. This happens as the surrounding tooth rises out if its socket to replace a single tooth. This causes the root to become exposed which leads to painful sensitivity and other issues.
Gum Disease
After you lose a tooth, your gums become vulnerable to germs and bacteria. If they are able to penetrate into the gums it can cause swelling, bleeding, and even receding. Without a tooth present for stability, your gums become susceptible to gum disease and periodontist.

Sagging Jaw
Dental implants can also prevent the deterioration of the jaw bone by conserving the bone that exists under the missing tooth. This, in turn, can prevent sagging of the jaw and improve the health of your bone.
Cavities
Additionally, implants can prevent cavities. In fact, you cannot develop cavities with implants. But don't let that prevent you from seeing the dentist, you still need to have regular check-ups to ensure your gums and mouth are healthy.
How Can Implants Improve Your Life?
Not only do missing teeth feel uncomfortable but they can be rather embarrassing too. And when you feel insecure about your smile, you're more likely to become guarded and withdrawn. Fortunately, dental implants exist so that you can get your beautiful smile back and feel confident once again. Thanks to their natural look, you can easily match the colour and size of your other teeth – no one will be able to spot the difference. Dental implants are as strong as your regular teeth and function just like them as well. That means you never have to take them out when you eat or go to bed and you'll never have to worry about them coming loose when you bite into something hard.
What Happens Before, During, and After the Procedure?
Dental implant procedures normally require a couple of trips to see the dental surgeon. Prior to the dental implant surgery, dental x-rays will be taken of your jaw and surrounding bones to determine whether you have enough bone available. Some patients may need a bone graft before the implant but if there is enough bone, the patient will return at a later time for the surgical procedure. During a later appointment, and when a strong bone is present, the dental implant is placed into the bone with special tools, and the abutment is attached on top. A healing cap is then placed over the implant before the gum is stitched and the healing begins. Over treatment time, once the implant becomes integrated with the bone, follow-up appointments will begin to ensure that no infection in the gum tissue exists and the healing is taking place.
How to Take Care of Dental Implants?
Since dental implants are placed in the jaw bone, the replacement teeth attached to implants look and function just like a natural tooth. Just like with natural teeth, your implants require regular cleaning with a toothbrush and dental floss. Implant dentists at Rockcliffe Dental will show you proper cleaning techniques for implants. Furthermore, make sure to visit us for regular dental checkups to make sure that your implants are not loose, and your bite is correct.
What Else Should I Know?
Once you find out what are dental implants and if you are a good candidate for the procedure, it is important to understand several points:
A treatment plan may consist of several dental visits in order to complete the entire process.
Your implant dentist will schedule checkup appointments in the following year to make sure your implants are functioning properly and to avoid implant failure.
You will need to pay attention to everyday care of your implants.
Implants often cost more than other types of replacement teeth.
Even though complications are rare, infection (peri implantitis), bleeding, injury, or numbness of nearby muscles is possible.
Visit Dental Implant Specialists at Rockcliffe Dental
Stop hiding behind your smile and do something about it. If you're constantly feeling insecure about a missing tooth or the condition of your teeth, then it's time to learn what are dental implants and to get the treatment you need to get your smile back. Dental implants can provide a long term, beautiful smile. So if you've lost a tooth or have a gap that is concerning, come speak to us at Rockcliffe Dental about our dental implant options today.
Visit Contact Us page for more information or give us a call at 613-746-4600.