For weakened, broken or missing teeth, the insertion of tooth crowns and dental bridges in Ottawa by our team can make all the difference. We can easily make your smile perfect once again, thanks to the effectiveness of these artificial yet all-natural looking tooth additions.
What are Tooth Crowns and Dental Bridges in Ottawa?
Tooth crowns and dental bridges in Ottawa are dental appliances made to fit over cracked, injured, or discoloured teeth or to fill in the space resulting from tooth extractions in order to protect the teeth from future damage or injuries. In addition, these dental procedures aid in the prevention of future toothaches or discomfort.

Dental Crowns in Ottawa
A dental crown permanently cemented over an existing tooth's top surface helps to restore and maintain a specific shape, size, strength, and appearance. Our dentists meticulously install permanent crowns with careful precision, which generally last five to eight years or longer with good oral hygiene. Our tooth crowns also match the natural tooth color in order to blend perfectly with your smile to achieve beautiful results.
Are Dental Crowns Right for Me?
A dentist will generally recommend dental crowns in Ottawa to treat a broad range of cosmetic and restorative dental concerns.
You may need a permanent crown for several reasons, including:
Restoring a broken or a severely worn down tooth
Holding a dental bridge in place
Covering and supporting a tooth with a large filling
Covering a dental implant
Protecting a weak tooth from breaking or keeping a fractured tooth together
Covering a misshapen or severely discoloured tooth
Covering a tooth after a root canal treatment
As such, the Rockcliffe Dental & Denture Centre professionals, specializing in tooth crowns and dental bridges in Ottawa, may recommend installing a dental crown to either address cosmetic concerns or to help restore your dental health.
What are Onlays and ¾ Crowns?
There are numerous types of crowns that a dentist can recommend to address different dental conditions. Onlays and ¾ crowns are types of tooth crowns that do not cover as much of your underlying tooth as traditional crowns.
A traditional dental crown will cover the entire tooth. Onlays and ¾ crowns, on the other hand, are often used when you still have sufficient strong tooth structure. They present a more conservative approach than the full coverage of a standard crown, when the dentist removes the affected area and files or reshapes the tooth in preparation for the crown.
What are Tooth Crowns Made Of?
Tooth crowns in Ottawa present highly durable dental restorations that function and look just like natural teeth. They can be made from a variety of materials, such as ceramic, metal, zirconia, porcelain with metal, or a combination of zirconia and porcelain.
All-ceramic or all-porcelain crowns. These types of dental crowns provide the most natural appearance and the best colour match than any other type of crown, and, as such, are popular for restorations of front teeth. They are also an excellent option if the patient is allergic to metal. However, ceramic and white porcelain crowns aren't as strong as metal-based crowns and can wear down the opposing teeth more than metal or resin crowns.
Pressed ceramic crowns. Pressed ceramic restorations have a hard inner core made of ceramic that was melted and pressed at a very high temperature. The top portion of the crown is made of porcelain, which provides a great natural colour match. These crowns are more long-lasting than all-porcelain crowns.
All-resin crowns. Dental crowns made out of resin are generally more affordable than other crown types. However, they tend to wear down over time and are more prone to breaking than crowns with a metal core.
Porcelain-fused-to-metal crowns. This type of tooth crown has a more natural look than all-metal crowns. In addition, it can be matched to the colour of surrounding teeth. However, you may be able to see the metal under the white porcelain cap as a dark line along the gum. The porcelain portion can also chip or break off and can wear down the teeth opposite to it in the mouth. Porcelain-fused-to-metal crowns work well for both front and back teeth.
Metal crowns. Metal crowns can be made out of gold alloys, nickel, palladium, or chromium. These crowns are the strongest and most long-lasting out of all the tooth crown types and require removal of only a small portion of the natural tooth. Metal restorations can easily withstand chewing and biting forces and rarely break or chip. However, the metallic colour of the materials means that these crowns suit well for only out-of-sight molars.
Dental Crown Procedure in Ottawa
When you visit Rockcliffe Dental & Denture Centre for a comprehensive oral health exam, our dentist will determine if a dental crown is, indeed, an appropriate treatment required to restore your beautiful smile.
Usually, we require two visits to install a dental crown. In the first visit, our dental team lead by Dr. Koniouchine will prepare the tooth for the crown and take impressions to ensure unquestionable accuracy, as well as the fitting of a temporary crown.
Based on this impression, the dental crown will be molded exactly to match the colour, size, and shape of your natural teeth.
Your second and final visit will involve the installation of the permanent crown, which is cemented into place, inspected for comfort and fit, and polished to appear completely natural to the naked eye.

Here are the steps involved in a dental crown procedure in Ottawa:
X-Ray imaging. Dr. Koniouchine will take X-Ray images of your teeth and gums in order to determine whether you require a tooth crown or a different restorative procedure.
Application of anesthetic. If you are a good candidate for the procedure, your dentist will numb the area around the treated tooth.
Preparation of the supporting tooth. Once the treated area is numb, Dr. Koniouchine will gently file away a part of your natural tooth to create room for restoration.
Supporting tooth impressions. After the tooth preparation, the dentist will take tooth impressions in order to create a custom dental crown that fits perfectly.
Placement of the crown. Once the crown is created, it is finally cemented to your tooth.
What Problems Can Develop with a Dental Crown?
Over time, you may experience several issues with your crown, which may require an additional visit to your dental clinic or office.
These issues include:
Sensitivity or discomfort. Right after the dental crown procedure, you may experience some sensitivity as the anesthesia starts to wear off. Your dentist may recommend that you use a special toothpaste for sensitive teeth to reduce the discomfort. If you still experience sensitivity when biting down on the crowned tooth, this could mean that the crown is too high, – if this is the case, your dentist will be able to
Loose crown. The cement that holds the crown may wash out from under the crown over time. If this happens, the crown may become loose and allow bacteria to cause tooth decay under the crown. If you feel that your crown became loose, contact your Ottawa dentist at Rockcliffe Dental & Denture Centre immediately.
Chipped crown. White porcelain crowns can chip if you bite on very hard foods. Small chips can be easily repaired without the need to remove the crown. However, if the chip is large or there are multiple chips, the crown may require replacement altogether.
Crown falls off. Sometimes, a dental crown can fall off. This usually happens due to a lack of cement or improper fit. If your crown falls off, contact your dentist right away and follow the recommendations on how to care for your crown and tooth until your appointment. The dentist may be able to re-cement the same crown in place. If this is not possible, he or she will order and install a new crown.
A dark line near the gum line. If you have a porcelain-fused-to-metal crown, you might see a dark line along the gum surrounding the crowned tooth. This is simply the metal of the crown showing through, and this is completely normal.
Allergic reaction. The metals used to make certain types of crowns are often a mixture of several metals. You may develop an allergic reaction to the metal or porcelain in your crown, but this is extremely rare.
Dental Crowns Front Teeth Before and After
Curious to see dental crowns before and after photos? Here is a case of the front teeth rehabilitation with porcelain dental crowns: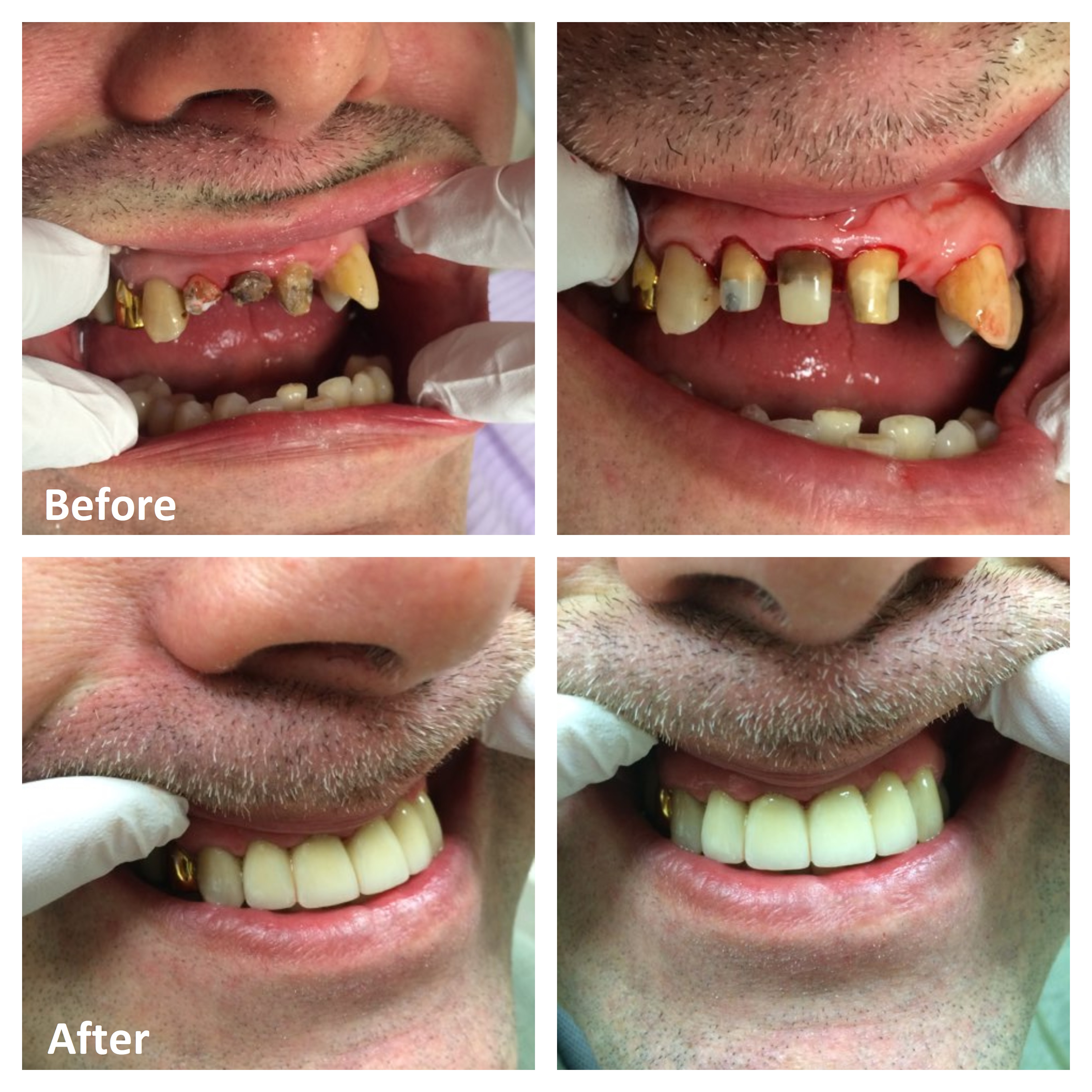 Tooth Crowns FAQ
How much do crowns cost in Ottawa?
The price of a dental crown in Ottawa will depend on the crown restoration of choice and any additional preparation work required. For example, porcelain crowns generally cost more than gold crowns, which, in turn, cost more than porcelain-fused-to-metal crowns.
At Rockcliffe Dental & Denture, the price of a crown can range between $1160 and $1825.
Do crowns ruin your teeth?
No, dental crowns do not ruin your teeth. While they do require some filing of the natural tooth, crowns serve to restore a severely decayed tooth or protect a weak tooth from further damage. With proper oral hygiene, you will be able to keep a crowned tooth healthy and prevent any future decay.
Are dental crowns permanent?
Tooth crowns are permanent teeth restorations, as you don't have to remove them for cleaning as you would have to with dentures. However, dental crowns do require replacement every 5 to 15 years, as they wear down over time.
How long do dental crowns last?
On average, a tooth crown can last anywhere between 5 and 15 years. The lifespan of a crown will depend on the regular "wear and tear", how well you follow oral hygiene practices, and your personal habits.
To prolong the life of your crown, avoid harmful habits like:
Chewing ice
Biting your fingernails
Grinding or clenching your teeth
Using your teeth to open packaging
Does a crowned tooth require any special care?
You should care for a crowned tooth the same way you would care for a natural tooth. Even when under a crown, the underlying tooth structure still needs protection from gum disease and decay. As such, it is cruical to follow good oral hygiene practices.
Remember to brush your teeth twice a day and floss every day, especially around the crown area, where the gum meets your crown. In addition, you should avoid biting on hard surfaces with porcelain crowns to prevent cracking and chipping.

Tooth Bridges in Ottawa
For those who have several missing or broken teeth, a tooth bridge in Ottawa is the best option. Installed in the same manner as our dental crowns, this solid multi-tooth cap helps to restore chewing abilities in affected areas as well as speech.
In addition, the installation of a dental bridge by our professional team helps to prevent your teeth from becoming misaligned due to shifting space, and it also protects against gum disease and decay typically associated with shifted teeth.
With modern dental techniques and technologies used at Rockcliffe Dental & Denture Centre, our tooth crowns and dental bridges in Ottawa allow for better function and are more natural looking as compared to traditional options.
Are Dental Bridges Right for Me?
A dental bridge or a partial denture can be used to either replace teeth that need to be extracted or to replace teeth that have already been lost. A tooth bridge in Ottawa requires healthy and strong surrounding teeth or the placement of supporting dental implants. Alternatively, a dentist can place a dental crown to reinforce the supporting teeth. The bridge itself holds the prosthetic teeth, while the adjacent natural or artificial teeth serve as anchors holding the structure.
Dental Bridge VS Dental Implants
Both tooth crowns and dental bridges in Ottawa are dental appliances, which depend on properly prepared and filed adjacent teeth for support. In contrast, a dental implant involves a dental crown permanently attached to a metal post that has been implanted into the jaw bone, leaving adjacent teeth unaffected.
For potential patients, a dentist can recommend a dental implant when securing a dental bridge or replacing a single missing tooth. Implants present an artificial tooth replacement and offer important benefits that will support long term oral health and provide the most natural appearance and function.
Dental Bridge Procedure in Ottawa
Just like a dental crown, a tooth bridge procedure requires two appointments: to prepare the adjacent teeth and take their impressions and to place the permanent dental bridge structure.
A dental bridge procedure in Ottawa involves the following steps:
Assessment. Dr. Koniouchine examines your oral health and determines whether a bridge is the best option to replace missing teeth.
Teeth preparation. The dentist applies a local anesthetic and shapes adjacent teeth to properly fit the bridge. In some cases, your dentist will use a dental implant instead to anchor the bridge.
Teeth impressions. Dr. Koniouchine then takes the impressions of the supporting teeth and sends them to the laboratory for the bridge construction. He also takes a sample colour in order to ensure that the prosthetics closely match the natural teeth for aesthetic purposes.
Temporary bridge placements. For some patients, the dentist might fit a temporary bridge to protect the shaped teeth while the permanent bridge is under construction.
Permanent bridge placement. As soon as the unique personalized dental bridge is ready, your dentist permanently places it onto the supporting teeth under the local anesthetic. He removes the temporary bridge, cleans the anchoring teeth, and applies dental cement to attach the fixed bridge.
Dental Bridge Work Before and After
Have you been browsing for "dental bridge before and after pics"? Here are a few examples of front teeth being restored with porcelain bridges by our skilled dentists at Rockcliffe Dental & Denture Centre!
Dental Bridge Front Teeth Before and After:

Choose Experts at Rockcliffe Dental & Denture Centre for Dental Crowns and Bridges in Ottawa!
Is it time to replace or repair several broken, missing or significantly damaged teeth? In that case, tooth crowns and dental bridges in Ottawa present firmly fitting and comfortable solutions.
Contact Rockcliffe Dental & Denture Centre today to book an appointment and learn more.
Read More: