General dentistry in Ottawa is uniquely oriented toward disease prevention, and, as such, general dentist is the one health care provider you should visit more than any other.
In fact, almost 65% of all dental treatments are either diagnostic or preventive in nature. By focusing on hygiene and oral health, general dentists help their patients to prevent the progression of oral diseases, which, if left untreated, result in pain and costly treatments.
We provide a wide array of dental services, including x-rays and cleanings. Employing expertly trained hygienists, assistants and administrators, we at Rockcliffe Dental & Denture Centre will quickly and efficiently diagnose, address, and solve all your dental concerns.
What does General Dentistry in Ottawa Include?
We offer a comprehensive range of effective services that have been proven to produce reliable and healthy dental results. Among them include preventative care visits, restorative services such as fillings, denture fittings and placements, pediatric treatment, and root canal therapy. We also consider new patient exams, extractions, bonding and implant restorations as general dental practices. We'll work with you to determine the best way to help you maintain a clean and healthy smile, and the team will help develop the best course of treatment for any issues you may be suffering from.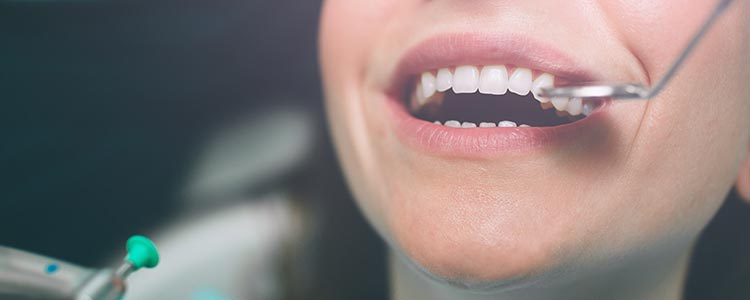 What Do General Dentists Do?
Out of approximately one hundred forty-three thousand dentists working in Canada and the U.S., 80% are general dentists.
Unlike dental specialists, who are focused on a specific area of dentistry field, general dentists provide a broad range of services that are crucial to your continuing health, such as:
Preventive Services. Such services are intended to help you maintain good dental health by stopping the disease before it occurs. Regular dental exams, diagnostic imaging, such as X-Rays, and professional teeth cleanings are crucial for disease prevention. Your general dentist in Ottawa may also give you detailed instructions to improve your at-home dental care and may recommend preventive treatment options if needed. If you have an active life, you can also be fitted with a mouthguard at your dental office.
Restorative Services. Once a problem is detected, your general dentist will ensure that you receive appropriate treatment in a timely manner. The most common restorative service includes removing cavities and placing a tooth filling in the treated tooth. In addition, general dentistry in Ottawa provides you with prompt treatment for any dental trauma, such as loosened, knocked-out, or broken teeth. General dentists can also determine and treat the causes of periodontal disease and tooth pain. Furthermore, general dentistry in Ottawa involves treatments of missing teeth, dental crowns and tooth bridges, and dentures. Some general dentists provide more advanced treatments, including orthodontics, root canal therapy, and dental implants.
Cosmetic Procedures. With general dentistry in Ottawa, you can get a beautiful sparkling smile with a wide range of cosmetic dental treatments, such as teeth whitening, porcelain veneers, or cosmetic bonding. If you are looking for a more beautiful smile, ask your general and cosmetic dentists in Ottawa at Rockcliffe Dental & Denture Centre about a smile makeover.
Other Health Concerns. In many ways, your oral and dental health is a mirror of your general health. Certain dental issues may reflect problems in other parts of your body and vice versa. As such, oral infections that are left untreated can lead to poor control of diabetes or complications during pregnancy. Your general dentist will identify the issues and suggest an appropriate treatment or referral when required. One important concern is sleep apnea, which can often be treated with a dental appliance. General dentistry in Ottawa may also involve nutritional advice, counseling regarding tobacco use, and general health information.
General dentists perform a range of procedures, including:

When Should I See a General Dentist in Ottawa?
You should visit a dentist every six months for a dental check-up and professional cleaning and immediately in case you have an oral health concern. You may have an obvious signal, such as bleeding gums or toothache, or you may be interested to find out more about a popular cosmetic procedure. Whatever the case, do not hesitate to contact Rockcliffe Dental & Denture Centre!
There is no single schedule for routine dental appointments that fits every patient. Depending on specific circumstances, your dentist may require you to come every six months, every three months, or even more often. Keep up with the suggested schedule for preventive treatments and practice effective dental care at home to keep your smile looking healthy and bright for the rest of your life
Why Choose Rockcliffe Dental & Denture Centre
Our team of dental professionals, hygienists, and other knowledgeable and skilled staff members continually undergo extensive training related to advanced treatments and technologies. In addition to this, our team is fully certified and licensed in accordance with Ontario dental laws and governance. With this continued investment of time and effort into learning new ways of treating patients, you'll receive advanced and efficient services available and stunning results.
Book Your Appointment at Rockcliffe Dental & Denture Centre Today!
Are you looking for a "general dentist near me"? At Rockcliffe Dental & Denture Centre, we aim to provide dental care to people of all ages. Do you need a routine visit to a family dentist for dental exam and a professional cleaning of gums, teeth, and other structures? Do you require treatment to an already existing issue? In any case, we are here to help!
If you're curious about how we can help you with general dentistry in Ottawa and assist with maintaining your smile's healthiness, don't hesitate to contact us. We'll gladly work with you to book an appointment and develop an effective care strategy.