Imagine if you could get back to savouring your favourite foods. Think about how it would feel to love your smile again and enjoy the feeling of healthy, attractive, non-removable teeth. All of this is a possibility with full mouth implants from Rockcliffe Dental & Denture Centre.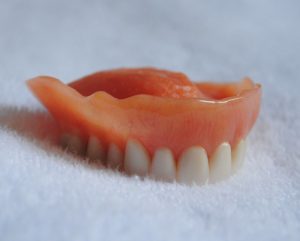 While the general population may refer to this dental procedure as "full mouth dental implants", within the dental community, this solution is known as "two arches of implant-supported, non-removable, prosthetic teeth."
With this permanent teeth replacement solution, patients won't experience discomfort and anxiety associated with wearing traditional dentures. Just imagine, no more sliding from side to side, no more denture cleaning or sore spots in your mouth. You won't have to worry about your denture slipping out while you speak or sneeze and will be able to enjoy your social life to the fullest.
Does it sound like music to your ears? Read on to learn everything you need to know about full plate or full mouth dental implants in Ottawa.
What are Full Mouth Dental Implants?
The term "full mouth dental implants" or "full plate dental implants" describes any dental implant procedure aimed to replace all of your missing teeth in either your upper or lower arch. This can be done with four to six implants working together as a team to support a full bridge or denture. "All-on-4", "All-on-5", and "All-on-6" are all different types of full mouth implants.
Benefits of Complete Teeth Replacement with Full Mouth Implants
There are a few ways in which patients can benefit from full mouth dental implants in Ottawa:
1. Preservation of Adjacent Teeth
When natural teeth do double the work in supporting the bite pressure of a removable denture or bridge, it leads to the weakening and wear of natural teeth.
On the other hand, full mouth implants protect the remaining natural teeth by preventing them from shifting and misalignment problems. In addition, dental implants serve as a root to attach the dental prosthetic. As such, they don't require healthy teeth to be filed down as with dental bridges.
2. Preservation of Bone Structure
While natural teeth are supported by gum tissue, gums receive support from the jawbone. As soon as a natural tooth is lost, the bone loses strength, and the jawbone shrinks. This can cause changes to facial structure and make the cheeks and corners of the mouth appear saggy and sunken.
A full mouth dental implant serves the same purpose as natural teeth roots, stimulating the jawbone and providing stability to the crown.
3. Higher Success Rate
In a nutshell, a dental implant is a titanium post screwed into a jawbone. Its amazing strength arises from the bone and gum that grow around the post. Unlike bridges or dentures, implants don't require periodic replacement and, with proper oral hygiene, a full dental implant can last you a lifetime.
4. Cost-Efficient
A full mouth dental implant procedure is more cost-efficient than a single-tooth implant: with complete tooth implants, all of the artificial replacement teeth are supported with only four to six metal posts.
And, while the cost associated with implants may bring hesitation at first, remember that a one-time charge results in decades of use and comfort.
How Do Full Dental Implants Work?
In a nutshell, a dental implant presents a titanium screw that serves as an artificial tooth root. With full dental implants, several individual implants are placed within the jawbone in order to serve as an anchor for prosthetic teeth, whether it be dentures, overdentures, or implant-supported bridges.
Full Mouth Dental Implants Process
A full mouth dental implant process involves several stages with a few months of healing time in between:
Implant placement. Several implants, which look like metal screws, are placed into the jaw. These will serve as anchors for your artificial teeth in the future. The implants are left to heal and bond with the bone for the next 2 to 6 months, – during this period, you may be wearing a temporary teeth replacement option.
Extension attachment. Some implant systems include an implant that comes with the extension piece attached right away. These temporary healing caps with connecting devices are meant to allow your gums to take the correct shape while healing. In other cases, a separate step is required to expose implants and attach extensions. Then, your gums will need to heal for another couple of weeks after the procedure.
Placement of prosthetic teeth. Finally, full dentures or bridges will be custom made and attached to the connecting devices called abutments. Soon, you will experience a restored ability to chew and speak.
How Many Implants Are Needed for Full Mouth?
The exact number of dental implants required for a full arch of new teeth can vary between 4 and 6, depending on whether it is an upper or lower arch and the number of replacement teeth that require support. The size of your jaw and quality of bone will also affect the optimal number of implants for a complete tooth replacement.
Most of the time, one of the following procedures is used:
All-on-5 dental implants
All-on-6 dental implants
How Long Do Full Mouth Dental Implants Take?
Generally, the entire full mouth dental implant process takes between 5 and 8 months. However, it could take longer if additional gum or bone grafting procedures are needed.
The surgery to place implant posts themselves takes approximately 2.5 to 3.5 hours per arch.
Cost of Full Mouth of Dental Implants in Canada
The cost of full mouth dental implants in Canada ranges between $7,000 and $28,000 per arch. The exact price to replace all your teeth depends on the type of procedure and whether additional bone grafting is required.
Book a consultation with one of our implant specialists at Rockcliffe Dental & Denture Centre to receive a detailed treatment plan and cost estimate.
Get a Full Set of New Teeth with Rockcliffe Dental & Denture Centre
Do you think that you may be a good candidate for full mouth dental implants in Ottawa? Scheduling an appointment at Rockcliffe Dental & Denture Centre is a great place to begin. Our implant dentists will thoroughly examine your oral health and suggest a treatment plan to restore your smile and confidence.
Contact us today and start your journey to a new, beautiful full set of teeth.