When you feel confident and comfortable with your appearance, others notice it. Being uncomfortable with your smile can make it more difficult to feel relaxed and at ease, especially when in the presence of others. Thankfully, we at Rockcliffe Dental & Denture Centre are masters at providing complete smile makeovers that beautify and strengthen your teeth.
What is a Smile Makeover?
Essentially, our smile makeovers consist of several cosmetic and functional dental procedures performed together to remove or hide stains and discolouring, repair broken and/or chipped teeth, and address malocclusion. The benefit of having multiple procedures performed is that the overall process produces more consistent results due to all work being carried out by the same dental professionals. Also, patients can avoid redundant dental procedures and save money thanks to the intention of a smile makeover to provide a comprehensive and effective solution. You'll also be able to group procedures together to minimize the number of office visits required.
A smile makeover is the perfect way for individuals to alter the appearance, functionality, and comfort of their smile under the guidance of one of our knowledgeable dental and cosmetic professionals. Whether you're opting for repairs for crooked teeth or dramatically whiter looking teeth, you'll find that we can easily accommodate for your dental and cosmetic desires. We'll consult and work with you to decide which course of action is most suitable.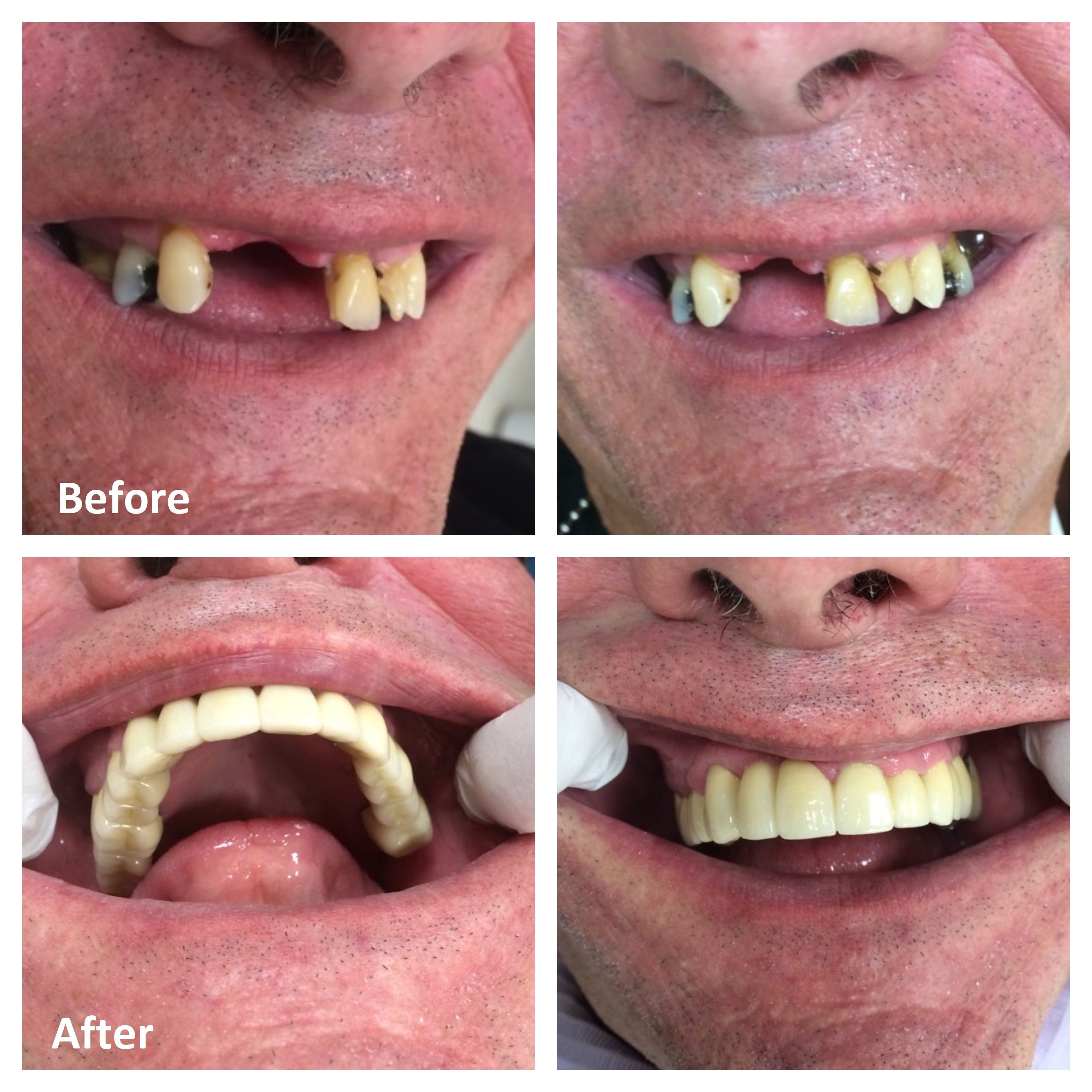 Smile Makeover Before and After
Still not convinced? Just take a look at the before and after photos of full mouth rehabilitation with porcelain crowns and bridges:
Ready for a New Smile? Contact Rockcliffe Dental & Denture Centre!
If you're eager to refresh your look and dental functionality, then feel free to contact us to plan things out and make appointments. We look forward to revitalizing your confidence and comfort with your smile.