When you require a replacement of an unhealthy or missing tooth with dental implants in Ottawa, it's best to leave the treatment to a specialist experienced with the intricacies that such procedures command. Have you been looking for "dental implants near me" or "implant dentist near me"? Look no more! At Rockcliffe Dental & Denture Centre, our team with years of collective implant procedure experience is capable of providing top-notch quality dental implants at affordable prices.
Replace Missing Teeth with Dental Implants in Ottawa
After carefully examining your jaw bone structure and condition of a missing tooth, we can begin the surgery process. Following any necessary tooth extraction and bone grafting procedure, a dental implant is inserted into a patient's jawbone to completely replace the root of a missing or heavily damaged tooth. The artificial root is constructed of titanium metal, yet this permanent replacement tooth looks, feels, and functions just like a natural tooth.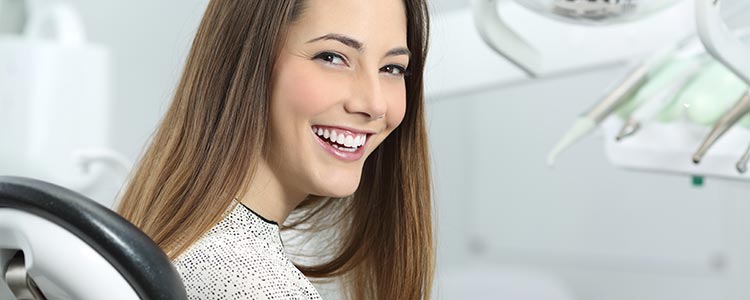 A Carefully Performed Dental Implant Procedure in Ottawa
Every step of a dental implant procedure is conducted with the utmost precision and attentiveness by our professional team. From initial examinations and X-rays to installation and follow-up care, we can make a difference in your smile. We are surgical experts who value and understand the importance of an accurate, healthy, and reliable treatment pertaining to prosthodontics and other similar fields of dentistry. Whether you need to replace a single tooth, several teeth, or all of your teeth, our facilities and staff are prepared to address any issues pertaining to your smile.
Tooth Implant Procedure in Ottawa Involves the Following Steps:
Consultation. Experienced implant dentists at Rockcliffe Dental & Denture Centre will perform a medical exam of the candidate for dental implants and evaluate the x-rays in order to recommend appropriate types of implants required.
Anaesthesia. During the consultation, various anaesthesia options will be considered in order to minimize discomfort during the surgery.
Recovery. We will provide you with a prescription for antibiotics or pain medication if necessary, as well as detailed after-surgery instructions.
Follow-Up Visit. The implant surgeon will schedule the follow-up visit in order to monitor the healing process and answer any questions you may have.
Possible Risks. With the latest technology used at Rockcliffe Dental, serious complications with dental implants in Ottawa are highly uncommon. However, numbness, prolonged pain, excessive bleeding, implant failure, infection, or sinus complications can sometimes occur.
What is a Dental Implant?
Implants are a type of dental treatment that is intended to replace a natural tooth that has been significantly damaged with a "replacement" tooth. Dental implants involve a surgical procedure that replaces the root of the tooth with screwlike metal posts, and then places "replacement" teeth that function and look completely natural. Dental implant placement surgery is a revolutionary alternative to denture, partial denture, or dental bridge, as it allows for chewing all types of food!
What are the Types of Dental Implants in Ottawa?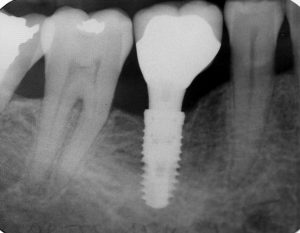 Implants can be used in several different ways to replace missing teeth:
Full mouth dental implant, multiple teeth implant, or all-on-four implant
Single tooth implant
Teeth-in-a-day
Implant supported denture
The specific type of dental implant procedure required will be determined on an individual basis. Dr. Koniouchine will carefully analyze the patient's oral health, the number and location of the missing teeth, as well as the availability of healthy bone structure.
Are Dental Implants Painful?
During the dental implant surgery, you will receive local anesthesia, which will make the procedure completely painless. However, some discomfort or pain after the anesthesia wears off is completely normal; the severity and amount of pain after the surgery will depend on the specific type of treatment that was conducted.
Usually, the discomfort can last for up to 10 days following the surgery, with the swelling subsiding within 3 to 5 days.
What are the Benefits of Dental Implants?
There is a number of benefits associated with getting dental implants in Ottawa:
Improved oral health
High durability
Permanent restoration
No slippage as with removable dentures
Unlike with dental bridges, no need to alter adjacent teeth
Comfortable fit and function
Natural look and feel
No dietary restrictions
How Long is the Process of Getting Dental Implants?
There is no doubt that a dental implant is the best replacement for a missing tooth available out there. However, getting a dental implant is not that simple and requires some time. On average, the entire process can take anywhere between six to nine months.
Time Needed to Fuse with the Bone
During your first appointment, the implant dentist will insert a metal post into your jaw. Then, you must wait six to eight months for the jaw to heal around the post and the implant to settle down, so that it is ready to support the crown. In case you require bone grafting, you may need to wait even longer.
When Bone Grafting is Required
In some cases, the jawbone tissue degenerates because of serious gum disease or because the bone underlying the tooth has been missing for quite awhile. In case there is not enough bone tissue to hold the implant in place, bone grafts will add another three to four months to the dental implant timeline.
Other Treatments May be Required
In case you are suffering from periodontal disease, the infection must be cleared before proceeding to the implant surgery.
This could take from several weeks to several months, depending on how bad the gum disease is.
How Long Does a Dental Implant Procedure Take?
Once you are ready to receive the implant, the procedure itself will take around one hour per tooth. During your next appointment four to six months later, the dentist will determine if you are ready to receive the abutment and crown to complete the process.
First, the abutment must be placed. Then, a few weeks later, a custom-made tooth crown itself can be finally installed. Once attached to the abutment, your tooth crown will feel, look, and function just like a natural tooth!
How Long will Dental Implants Last?

For patients thinking about long-term tooth replacement, undergoing a dental implant procedure is the perfect solution. The fact is, the longevity of a dental implant will depend on a number of factors, such as routine dental hygiene and the patient's lifestyle.
Nowadays, the dental implant process and technology are quite advanced, and implant failures are very rare. The major factor determining the lifespan of a dental implant is the overall patient health along with misuse or mistreatment.
Overall, with proper oral hygiene and maintenance, as well as regular dentist appointments and examinations, you can expect to enjoy your new beautiful smile for many years to come.
Can Dental Implant Decay, Rot, or Fail?
As long as dental implants in Ottawa are properly maintained, they can provide indefinite sustainability. Just like natural teeth, deterioration and decay can be avoided with proper care.
However, there are certain factors that may cause an implant to fail, such as diabetes or other serious conditions. Another issue that can compromise the success of the procedure is a gum disease. Nevertheless, proper home care is the most important factor for patients with dental implants.
Dental Implant Surgery: Before and After
At Rockcliffe Dental & Denture Centre, our implant dentists are skilled professionals with years of experience. When you choose our dental clinic for dental implant surgery in Ottawa, you can be sure to leave with a beautiful, natural-looking smile. Take a look at the real cases that we have worked on at our dental clinic!
Best Quality Dental Implants at Rockcliffe Dental & Denture Centre
It's important to feel comfortable and confident about your smile, and nothing makes that more difficult to achieve than living with a damaged or missing tooth. Thankfully, turning to us can spare you any awkwardness or embarrassment while protecting against the risk of infection. Our friendly team of experts will be glad to assist in protecting your teeth with top-quality service you can depend on.
Rockcliffe Dental has the skills, experience and passion needed to deliver exceptional-quality dental implants in Ottawa that you can trust. With a focus on care and comfort, we're happy to restore your smile to look its very best, helping you feel even better about your appearance.
Dental Implants Before and After Pictures