Do you have an ageing family member who is dealing with seriously decayed teeth or missing a tooth? Continue reading to learn everything you need to know about dentures in Ottawa from experienced dental professionals at Rockcliffe Dental & Denture Centre.
At Rockcliffe Dental & Denture Centre, we can arrange for a full or partial set to replace damaged, lost, or removed teeth. We have a master Denturist that can create high quality dentures designed to fit perfectly and be easily removed for denture cleaning.
Everything You Need to Know about Dentures in Ottawa:What are Dentures?
Dentures are prosthetic devices (artificial teeth and gums) that are custom-formed to your mouth to replace any lost or extracted natural teeth and are maintained by the surrounding teeth left and soft tissues of the oral cavity. Patients can replace all their teeth with a complete set of dentures on the top or bottom gum line or for a few missing teeth with a partial set.
While conventional dentures are removable, many modern denture designs rely on clasping or bonding onto dental implants or surrounding teeth.
Partial dentures are often used when the neighbouring teeth are not strong enough to support full dental bridges. Instead, they are fitted to the gumline and fastened to nearby teeth to prevent them from moving.
Full dentures, on the other hand, are held in place by suction, a strong oral adhesive or implant-support, and are often in the mouth 8 to 12 weeks after the healing process has been fully complete. If your loved one doesn't want to be left without teeth during the healing process, a temporary solution is available. Our denturist can place immediate dentures in the mouth until the gums have finished healing and a permanent denture can be appropriately placed.
What are Dentures Made of?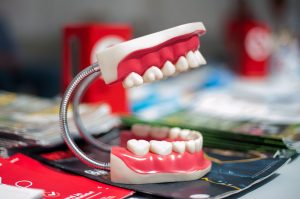 Various types of dentures, such as implant supported dentures or denture implants, are typically made of slightly different materials. In general, modern dentures are made from a durable hard resin material. The materials are high-quality and custom-made to visually match the existing teeth and gum colour.
The partial denture base is often made of plastic-covered metal, while the teeth themselves are made of plastic. The supporting structure is strong yet flexible to fit snugly on the gum line and to hold the teeth in place, even while you're eating.
However, if you are curious about everything you need to know about dentures in Ottawa, you should keep in mind that dentures are more fragile than natural teeth and must be properly cared for to prevent any damage or cracking.
How Dentures are Made: Step by Step
Your dentures will be specially made by our resident denture artisan. At Rockcliffe Dental & Denture Centre, our master Denturist will make your dentures right on site in their lab. This ensures our patients can also receive same-day relines and denture repairs.
The denture manufacturing process involves several steps:
Preliminary impression of the patient's mouth to prepare a diagnostic cast, which is usually done in wax.
Final cast is made from a stone-like product called gypsum.
The mold is filled with acrylic resin to form the denture itself.
This acrylic resin is packed onto the mold tightly with a vertical vice. The model is inspected to make sure it is filled properly.
Once the mold is packed, it is heated in order to harden the resin. This step may take up to eight hours.
After the mold has cooled again, it is broken apart, so that the denture can be removed.
The denture is placed in the model of the patient's mouth and minor smoothing and grinding is performed to make the denture fit perfectly.
Oral Health Benefits of Dentures
Dentures can easily improve the overall appearance and functionality of your smile. They can keep the structure sound and support the surrounding facial features to prevent sunken cheek areas. Dentures can also ensure that the neighbouring teeth don't shift into the missing tooth area, causing jaw issues, among several other oral problems. Most importantly, dentures can replace any weak or severely damaged teeth with strong and beautiful alternatives.
When talking about everything you need to know about dentures in Ottawa, it is important to note that modern alternatives are more natural looking and fit much better than they used to. So no one will even know that your loved one wears dentures. In fact, they're comfortable and can even make the recipient look years younger.
Denture Care
Of course, we cannot talk about everything you need to know about dentures in Ottawa without mentioning proper denture care and maintenance.
All dentures are required to be cleaned daily, just like the natural teeth in order to prevent bacteria, plaque, and tartar from harming the existing gums and surrounding teeth. The dentures should also be removed before sleeping and gently submerged in warm water to prevent them from drying out. For your convenience, our denturist will provide you and your loved one with a full guide on taking proper care of the dentures.
What is the Best Way to Clean Dentures?
In order to remove plaque, food, and other deposits, you should soak and brush your dentures daily with a nonabrasive denture cleanser and a soft bristle brush. In case you use a denture adhesive, make sure to thoroughly clean the grooves fitting against your gums in order to get rid of any remaining adhesive. To keep the dentures moist, soak them overnight.
However, you should avoid using denture cleansers inside of your mouth.
How Long do Permanent Dentures Last?
When thinking about everything you need to know about dentures in Ottawa, you may question how long do they last.
Dentures today are long-lasting, especially if they are properly cared for. However, as we age our gums shrink, which can cause the dentures to loosen or move around.
When this happens, your loved one will need to have the dentures adjusted and refined. In most cases, the dentures will last between five to seven years before they need to be replaced. Visiting the dentist regularly will allow them to check the condition and ensure they are maintaining their shape and fit.
Contact Denture Specialists at Rockcliffe Dental & Denture Centre
At Rockcliffe Dental, we provide high quality dental implants at our Denture Centre. Whether you or a loved one needs dental work or dentures to replace missing teeth, we can guarantee that you'll receive the finest services and best care possible in the Ottawa area.
Contact us today to learn everything you need to know about dentures and Ottawa and to discuss the available options for your loved one.
Dentures Before & After Photos