If you have suffered from tooth loss, tooth replacement with dentures or denture implants is the most common and effective solution for most of the patients. However, while most people understand the importance of dentures in tooth replacement, many patients struggle to understand the key differences between a dentist vs denturist.
Getting full or partial dentures requires a significant investment, so it is crucial to be aware of these differences prior to any tooth restoration or replacement work.
Dentist vs Denturist in Ottawa: Definitions
To begin with, let us define what the terms "denturist" and "dentist" mean in Canada.
What does a Dentist Do?
A dentist in Canada and the United States is also referred to as a "dental surgeon". It is a highly qualified health care professional that specializes in prevention, diagnosis, and treatment of conditions and diseases of the oral cavity.
A dentist is qualified to administer all types of dental treatments, including dentures. A dentist can diagnose the problem and determine which teeth are healthy enough to be saved, and which teeth could be used to hold partial dentures. Dentists can conduct repair works to prepare the teeth to support a partial denture. They could also remove any teeth that cannot be saved in order to provide the patient with a long-lasting solution for their teeth and dentures.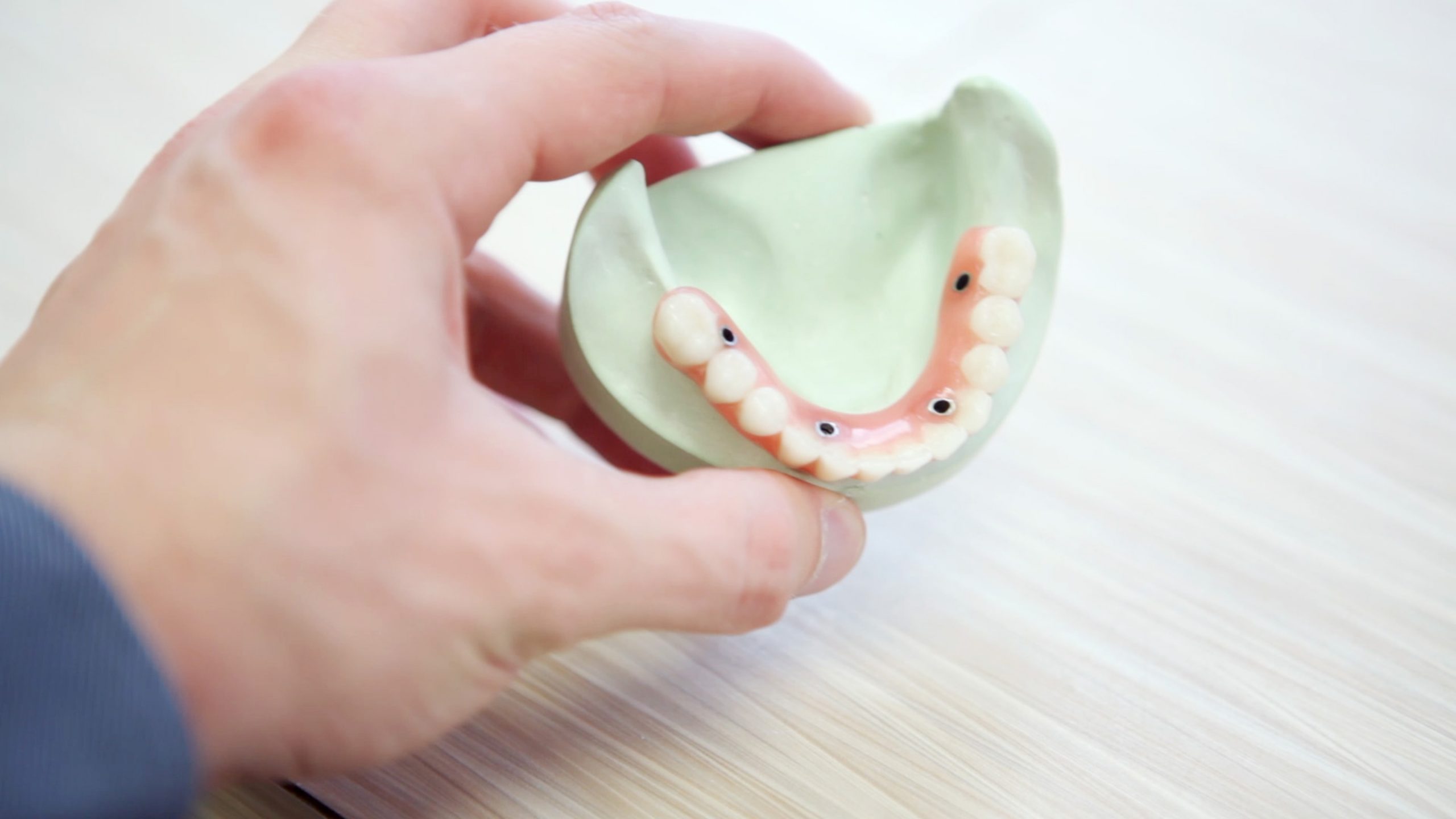 What does Denturist Mean?
A denturist in Canada and the United States is a certified dental technician. He or she is a member of the dental team that provides an examination of oral health, takes impressions of the surrounding tissues, and then produces the removable oral prosthesis for the patient. The oral prosthesis could be either full dentures, when no teeth are present in the mouth, or partial dentures, when natural teeth are still present.
The main difference between dentist vs denturist is that a denturist is not qualified to diagnose any oral health issues or perform any treatments on teeth or surrounding gum tissues. While denturists can make excellent dentures, their inability to diagnose and treat dental conditions limits their ability to produce dentures in some situations. In such cases, the denture patient would need to consult a dentist first.
What Does a Denturist Do?
Denturists can perform the following duties:
Take impressions
Measure patient's jaws to determine the size and shape of dentures required
Design a treatment plan for the patient
Design and construct partial and full dentures
Fit and adjust new dentures
Rebase and reline dentures
Alter and repair dentures
Fabricate mouth protectors
Fabricate removable prostheses over implants
Required Qualifications to Become a Denturist
In order to use the title of "Denturist" and practise in the province of Ontario, an individual must complete an approved denturism program, pass the Qualifying Examination from the College of Denturists of Ontario (CDO), and become registered with the CDO.
If you are looking for a licensed denturist in Ottawa, don't hesitate to give us a call to find out about denture services offered at Rockcliffe Dental & Denture Centre and discuss your treatment options.
Is Denturist a Dentist?
Both a dentist vs denturist have the same goal in mind: making sure you have a beautiful smile and taking care of your oral health. However, a denturist is not the same as a dentist. While both oral health care providers can be excellent at delivering the final denture, only the dentist can prepare the foundation for the fabrication of successful dentures.
Should I Visit a Dentist or Denturist?
When choosing between a dentist vs denturist, the optimal way is to use both a dentist and a denturist. In this way, you will be able to take advantage of the comprehensive knowledge of the dentist. He will be able to conduct a thorough exam of your oral health and identify any additional problems that require attention. As a result, you can be confident that the denture is placed in a completely safe environment, without any additional risk of infection.
The denturist, on the other hand, can do good work in a specific field under the dentist's supervision. He or she will properly manufacture precision dentures.
There is no need to pick between a dentist vs denturist. Working together, a dentist and a denturist will raise the bar of expertise and relieve you of any worries you may have about the successful placement of dentures in Ottawa.
Denture Services Provided by Your Ottawa Denturist

Luckily, at Rockcliffe Dental & Denture Centre, we have a full team of dental professionals, including both dentists and denturists. We provide a full range of dental services from beginning to end, in order to make sure that you leave our office smiling again.
We provide various types of denture services in Ottawa, including:
1. Examinations and Consultations
During your initial denture appointment, the dentist will review your comprehensive medical and dental history and examine the soft and hard tissues of your mouth. This will ensure that your denture requirements are properly assessed and that you are provided with the most appropriate denture solutions for your unique needs.
2. Complete Upper & Lower Dentures
If you have extensive loss of teeth, your dentist or denturist will recommend you complete dentures in order to replace all of the missing teeth in your lower and/or upper tooth arch.
3. Partial Dentures
Partial dentures are recommended for patients who have experienced only partial tooth loss in their lower or upper arch. These special dentures fill in the empty spaces due to the missing teeth. In addition, they work to prevent the remaining teeth from moving or shifting.
4. Denture Implants
Denture implants are a newer alternative to traditional dentures. With denture implants, the dental implant acts as an anchor, providing the foundation for dentures. Implants can be used to either support a single artificial tooth or partial/full dentures that serve as several false teeth.
While implant dentures are becoming more and more popular, they may not be suitable for all patients. Contact our denture clinic in Ottawa to find out if you are a suitable candidate for this option.
5. Emergency Denture Repairs and Relines
At Rockcliffe Dental & Denture Centre, we also offer same-day denture repair service and denture care of existing dentures. We can adjust your dentures as needed to avoid any discomfort or health problems.
Choose Rockcliffe Dental & Denture Centre for Comprehensive Denture Services
Many people are hesitant between choosing a dentist vs denturist when it comes to getting new dentures or replacing the existing ones. The truth is that both of these dental care professionals should ideally work together to provide comprehensive dental care services to the patients.
At Rockcliffe Dental & Denture Centre, we understand that each patient has specific needs and preferences and offer a wide range of long-term denture and implant solutions. From partial and complete dentures to implant-supported dentures – you can be confident to receive high-quality dental care to ensure long-term dental health.
Dentist vs Denturist FAQ
How much do dentures cost in Ottawa?
The cost of dentures at Rockcliffe Dental & Denture Centre varies between $2200 and $2400 for complete lower and upper dentures.
For partial upper or lower custom dentures, the prices range from $1200 to $1400.
Is it better to get dentures or implants?
Dental implants are permanent teeth replacements, which became a popular alternative to dentures. Dental implants cost significantly more than dentures, but they last longer and are easier to maintain as compared to dentures.
Talk to your dentist at Rockcliffe Dental & Denture Centre to determine which option is best for you.
Do you still go to the dentist if you have dentures?
Regular dental visits are as important for people with dentures, as they are important for people with natural teeth.
Many people who have no more natural teeth and wear full dentures are under the false impression that they do not need to visit a dentist regularly anymore.
However, the comfort and stability of dentures depend on the foundation supporting them.
Therefore, you should still come for regular dental check-ups to ensure good oral health, adequate jawbone, and healthy gums.
Can dentures be worn all the time?
Yes, you can wear your dentures at night. However, it is still recommended to remove them before sleep. This will give your gums and bone some rest from the pressure of wearing the dentures all day.
Can you get dentures that look like real teeth?
Yes, high-quality dentures will look more similar to natural teeth. Dentures made at Rockcliffe Dental & Denture Centre will fit naturally in your mouth and will help you speak and chew efficiently.
Do denturists pull teeth?
Denturists conduct oral examinations for patients who already miss several or all of their teeth and can repair, alter, design, and construct removable dentures. If you require tooth extraction prior to the denture placement, a dentist will perform the dental procedure.
What is the difference between a denturist and a prosthodontist?
A "prosthodontist" is the same dental professional as a "denturist."
Prosthodontists specialize in prostheses or creating devices to restore or replace missing teeth. These professionals are highly trained in dental implants, cosmetic restorations, bridges, crowns, dentures, and more. Since "prosthodontist" is difficult to pronounce, these dental professionals are often referred to as "denturists" as well.
Read More: