At Rockcliffe Dental & Denture Centre, we take oral surgery in Ottawa very seriously, as it is imperative that every patient receives only high-quality results and treatments. Through our continued dedication to updating our practices in accordance with tested and accurate modern techniques, we can quickly and efficiently execute any oral surgery needed to restore and protect your smile.
Different Types of Oral Surgery in Ottawa
Rockcliffe Dental is staffed only by professionals, which enables us to readily and efficiently provide a host of oral surgical procedures. Most common types of oral surgeries in Ottawa include wisdom tooth extractions, crown lengthening, periodontal surgery, root canals and anti-crowding extractions. Our knowledgeable and friendly team will work closely with you to discern which oral surgery in Ottawa is most suitable in regards to your dental health and needs. We also provide pain-numbing treatments to make your experience all the more comfortable.
Wisdom Tooth Extraction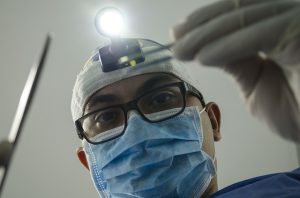 A wisdom tooth removal may be required in order to treat serious tooth damage and decay or in case your teeth are overcrowded. A wisdom tooth extraction will be recommended only if absolutely necessary: our experienced dentists are always devoted to preserving natural wisdom teeth with dental fillings and root canals if possible.
Wisdom tooth extractions can be performed in a single visit to our dental clinic and are performed under local anesthesia – the procedure is relatively painless. After the procedure is completed, your oral surgeon in Ottawa will provide you with after-care recommendations to minimize swelling or discomfort. Usually, patients are able to return to their day-to-day activities very quickly.
Crown Lengthening
If you have excess gum tissue that is making your teeth look short, you have what is commonly referred to as a "gummy smile". Esthetic gum lengthening in Ottawa is performed to remove excess gum tissue in order to reveal more of the tooth surface. This procedure is also called "gum lift" or "gingivectomy".
Esthetically speaking, there exist perfect sizes and shapes of teeth and gums. The ratio of the length of the teeth to gums, as well as the evenness and contours of the gum line, are all equally important for a beautiful smile. Dentists at Rockcliffe Dental & Denture Centre are true periodontal artists that can improve your gummy smile in Ottawa.
Periodontal Surgery
Sometimes, periodontal surgery in Ottawa may be required to treat specific gum conditions and diseases, such as periodontitis or gingivitis. Periodontal surgery is also often referred to as "gum surgery", as it aims to treat gum disease and any possible damage caused by it.
One of the most popular gum surgeries in Ottawa is gum grafts. Gum grafts present an effective solution for receding gums, which result when the tissue surrounding your teeth pulls further away toward the jawline. Consult oral and dental surgeons in Ottawa to find out if gum graft procedure is right for you.
Dental Surgery in Ottawa: Root Canal
A root canal procedure in Ottawa may be required to save and restore a tooth that has experienced significant decay or suffers from an infection. During the root canal surgery, the pulp inside the tooth, as well as the nerve, are removed, and the inside of the tooth is cleaned and thoroughly sealed.
The complexity of the procedure depends on the severity of decay or infection. However, modern root canal procedures are not as scary as they sound. This oral surgery in Ottawa is similar to a regular filling and can be completed in one to two visits to Rockcliffe Dental & Denture Centre.

Anti-Crowding Extraction: Orthodontic Treatment in Ottawa
Tooth crowding refers to a situation when there are too many teeth for the size of jaws. In such cases, anti-crowding extraction is performed. Once enough space is created through extraction of the tooth, the remaining teeth can be finally aligned properly. The teeth most commonly removed as a part of orthodontic treatment in Ottawa are the first premolars right next to canines.
Dental Implants
Dental implants are extremely effective in replacing missing teeth. Every year, tooth implants become more and more popular, as they look and function completely natural. The procedure involves surgically implanting a metal post into the jawbone to stabilize the artificial tooth crown attached on the top.
To be a good candidate for a dental implant procedure, you need to have sufficient amounts of the jaw bone and good oral hygiene.
Biopsies
If your dentist in Ottawa detects a suspicious lesion in your mouth, a biopsy will be performed to take a small sample. The sample will then be sent over to a lab to ensure that the tissue is not oral cancer. Some of such lesions can be treated with oral medication, but others will need to be removed by a dental surgeon in Ottawa.
Looking for an Experienced Oral Surgeon in Ottawa? Contact Us Today!
Typically, oral surgeries can be performed in a single visit, which is important if you are suffering from a major dental health problem that needs to be immediately addressed. If you are searching for an "oral surgeon near me" or require an oral surgery to address tooth or gum decay, crowding or root/pulp problems, don't hesitate to contact us. We'll work closely with you to achieve a healthy and clean smile with results that you can trust.
Contact experienced dental surgeons in Ottawa at Rockcliffe Dental & Denture Centre.
Read More: