Whether it's laughing gas or general anesthesia, conscious sedation in Ottawa can be very beneficial for patients who are fearful of the dentist. It can help create a calm and convenient atmosphere that allows the patient to relax while they get the treatment they need to keep their dental health in good shape. But even though sedation can alleviate a lot of problems, it's important to understand exactly when sedation is right for you.
You should always talk to your dentist directly about this, but, in the meantime, here is some info to help you learn more about sedation dentistry.
Conscious Sedation in Ottawa: Who is it for?
Very few people associate a dental visit with something pleasant, and experiencing a certain level of anxiety and dental fear prior to your appointment is completely normal. However, there are several conditions that make a patient a good candidate for conscious sedation in Ottawa.
Dental Phobias
If you or a loved one skip dental appointments out of an extreme dental phobia, this can really place your oral health, and overall health, in danger over time. In dentistry, any little problem you may be experiencing can usually be resolved quickly and painlessly if caught and treated early.
However, without those regular dental check-ups and treatments, small issues can fester and develop into much more severe problems that can magnify, requiring more extensive treatment. So the more you avoid the dentist, the greater your chances are at developing some serious issues in regards to your oral health. If you experience dental phobias, sedation could be right for you.
Sensitive Oral Nerves
Some patients may also experience more sensitivity in the nerves in their mouths. This is another common situation where conscious sedation in Ottawa could be right for you. You should always talk to your dentist about any painful sensations that you experience during any treatments or even cleanings. They can determine what the best method is for alleviating pain – including sedation.
General Anxiety Disorder
General anxiety disorder is another common situation that could require sedation therapy. This can be particularly beneficial to those with a combination of other underlying health problems such as hypertension and angina.
Resistance to Local Dental Anaesthesia in Ottawa
Some people are resistant to local anaesthetic applied during the dental procedure. There are many theories out there trying to explain the phenomenon, from different location of nerves, to the chemistry of the cell membrane, to mutation in the genetic structure.
Whatever the case, this does not mean that these patients have to go through unpleasant dental experiences without any pain relief. Sedation dentistry in Ottawa can significantly reduce the level of pain. Even though conscious sedation in Ottawa does not work as well as local dental anaesthesia in Ottawa for most people, it does make a big difference!
Causes of Dental Anxiety and Dental Phobia
Patients may develop dental anxiety due to a number of reasons, including: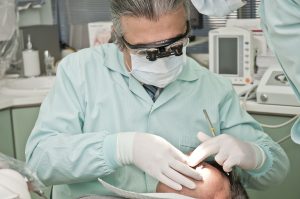 Feelings of loss of control or helplessness. If you think about sitting in a dental chair with your mouth wide open, no wonder that some patients feel unpleasantly helpless.
Fear of pain. This is one of the most common reasons for avoiding the dentists.
Fear of injections and needles. Many people are afraid of needles or the fact that the local anaesthetic injection will not work.
Embarrassment and loss of personal space. A mouth is a very intimate part of the body, and many people feel uncomfortable about the physical closeness of the dentist to their face.
Bad prior experience. Painful and unpleasant past experiences with dental work from as far as childhood can be carried throughout the entire life, causing anxiety even at the thought of a dental chair.
If standard local anaesthetic injected into your gums just doesn't cut it anymore, talk to your dentist at Rockcliffe Dental & Denture Centre about conscious sedation in Ottawa.
Which Type of Dental Sedation is Right for You?
Sedation options are administered differently and will vary from patient to patient, depending on your anxiety level. We recommend speaking to your dentist at Rockcliffe Dental & Denture Centre about which sedation method is optimal in your case.
There are three common types of sedation generally used in dentistry.
1. Nitrous Oxide
The first is nitrous oxide gas, also known as laughing gas, that relaxes patients during a procedure, allows them to remain in a conscious state, and wears off quickly.
2. IV Sedation
The second option is IV conscious sedation, which is commonly known as general anesthesia. This is administered directly into the bloodstream and takes immediate effect, placing patients into a deep sleep.
3. Oral Sedation
The third one involves oral sedatives, where patients take a prescribed pill an hour before an appointment, such as diazepam. This calms anxiousness while allowing patients to remain awake.  Oral conscious sedation provides minimal to moderate levels of dental sedation and is ideal for people with fears of needles. It is also cheaper than IV sedation and has fewer side effects.
So… Are You a Sedation Dentistry Candidate?
To sum it up, if you find yourself searching the web for any of the following questions, dental sedation in Ottawa may be the answer that you need:
What do you do when you have a fear of dentists?
How do you deal with dental anxiety?
Why is going to the dentist so scary?
How can I calm my nerves before going to the dentist?
How to stay calm at the dentist?
How to distract yourself at the dentist?
Dental sedation is often used for procedures that do not necessarily require sedation at all, but it is necessary for the patient to feel calm and relaxed during the treatment.
Leave Your Fears Behind with Sleep Dentistry in Ottawa
If you're worried and stressed out each time you need dental treatment, talk to us at Rockcliffe Dental about conscious sedation in Ottawa. We can address and answer any concerns you have and figure out the best course of action to help you get the treatment you need, stress-free.